FATHER VOLUNTEERS
Father's, Uncles, Grandfathers, Guardians and Coaches are invited to volunteer as counselors at Football Camp!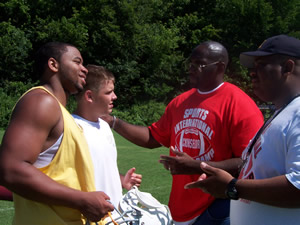 ---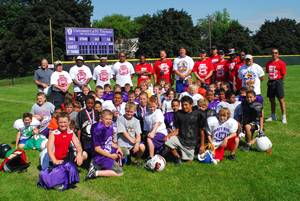 ---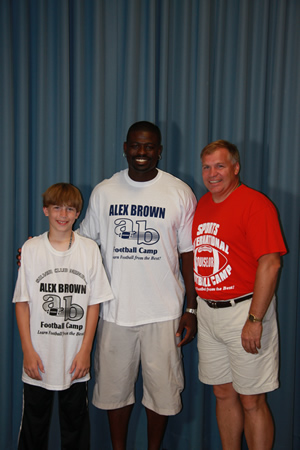 ---
Camp is a tremendous opportunity for a family member and camper to share something very precious and rare in today's society - time together! As a volunteer, you will receive housing, all-you-can-eat meals, three staff shirts, an autograph football and a camp photo with you, your son and the headliner of the camp you attend. You and your son (or players) will meet and become friends with the headliner, current and former players in the NFL, and more importantly, you will share a week with your son (or players) that you will never forget.
What is expected of me if I volunteer?
To have fun with your son (or players)
You must stay at camp during the entire program
You will be responsible for supervising a small group of campers while they are not on the playing field
You will stay in the dorms and help get the campers up in the morning and to bed at night, to the dining facilities, and to the field
Commuter Camper fathers are welcome to volunteer for the day session
Volunteers are hired on a first contract received, first hired basis and the limited number of positions we have available will fill up fast. All volunteers will be subjected to a background check before they are fully hired. Confirmation upon completion of the background check will be made by the staffing director. If you would like to share the camp experience with your son or team (and if volunteer positions are still available), see the ways to register below.
Online Staff Registration

Staff Liability Form
Create an account by clicking the link above or the image below. You will then click on "Staffing Applications" to fill out the online staff application.
Here is one example of how the camp is an unforgettable experience for father and son:
"My son attended the Eagles football camp and I was a volunteer counselor. It was our second year attending and certainly won't be our last. I got to see the growth in my son and the rest of my group from the first day to the last as players. Philadelphia Eagles players spent time with the kids and the staff even after practice. No kid or parent would ever forget spending a week at camp like this."
-- Tom S, Troy, NY

"My son and I went to camp together and it was one of the best things I have done with my son! The entire experience was outstanding! Although they worked the boys hard, they made every camper feel special during the camp. I was very impressed with how the pro players made sure the boys knew how important grades are while in school! The coaching staff was simply outstanding! I would highly recommend this camp and we will be back next summer."
-- James P., Lisle, IL

"This was the fourth year that my son and I (as a counselor) have attended this camp. It was another outstanding week. The Vikings at camp are simply outstanding, the best on and off the field. Aidan plans to attend camp until he cannot attend anymore and I plan to be right there with him. The camp gives Aidan and I the rare opportunity to share some quality time and a very special experience together. Thanks for another great football camp."
-- Aaron K., Edina, MN

"I was a counselor at the Football Camp. My son and I cannot say enough good things about the camp experience. I want to thank everyone responsible for putting on such a great camp. The entire camp staff was outstanding and we had a great time. The NFL players are simply the best, they make each player feel very special during the camp. My son is already talking about camp next summer and we will be back next year. Thanks again for a great week with my son!"
-- Brandon C., Charlotte, NC

"I attended a Sports International camp as a counselor with my son this past summer and it was one of the best experiences of my life! Jim and I both enjoyed every minute of camp. He is already out recruiting his teammates and friends to attend with him next year. I want everyone involved with the program to know how thankful we are for such a great camp. We will see you again next summer! Thanks again!"
-- James F., Colorado Springs, CO
* Due to the dorm bathroom and shower layout our counselor staff must be male.