THE BEST FOOTBALL CAMPS IN THE UNITED STATES FOR AGES 7-18!
PERFORM MAGAZINE RATED AS ONE OF THE TOP 10 SUMMER INSTRUCTIONAL CAMPS IN THE NATION
INSTRUCTION BY PROFESSIONAL PLAYERS AND COACHES
32 YEARS OF OFFERING THE FINEST FOOTBALL INSTRUCTION AVAILABLE
SUPERIOR HOUSING ACCOMMODATIONS AND ALL-YOU-CAN-EAT MEALS
"GRIDIRON ELITE" STATUS FOR THE TOP HIGH SCHOOL PLAYERS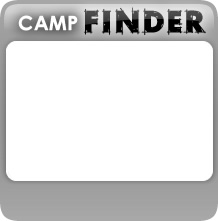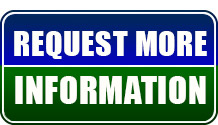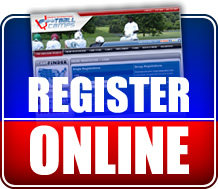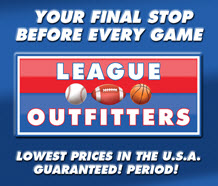 ---
Want to bring a camp near you?
Want to bring a football camp to your hometown?
Click here
to fill out an online form and a representative from Sports International will contact you.
---
All Dates, Locations and Players are subject to change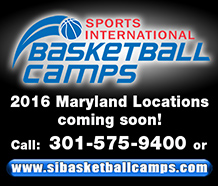 CJ MOSLEY & MARLON BROWN OVERNIGHT / COMMUTER CAMP
---
Youth Football Camp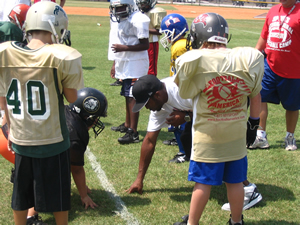 ---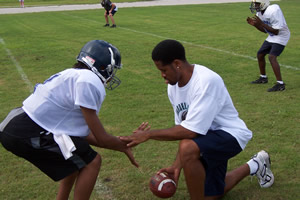 ---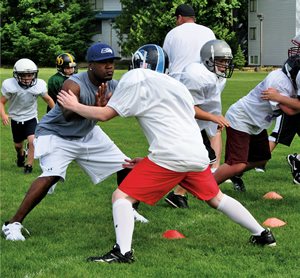 ---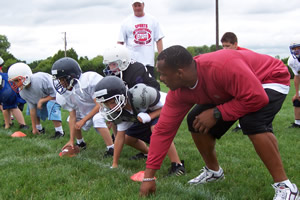 ---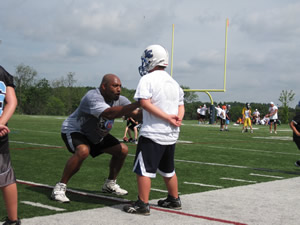 ---
If your youth football player is an experienced player or just starting football, this camp is for them! By working with our NFL players, college coaches and high school coaches, they will learn much more than just football! They will be taught teamwork, self discipline, consideration of others and how to attain their potential on the field and in life. We will also stress the importance of achieving success in the classroom and selecting the correct role models and friends.
BEST SUPERVISED CAMP IN THE NATION! Safety and security of your child is our number one concern! Therefore, we will conduct background checks on our entire staff, coaches and counselors done by the Protect Youth Sports. Our volunteer father counselors will supervise the campers. If you would like to become a volunteer father counselor, click here to learn more. In addition, a full-time staff of certified trainers will be on duty. Medical clinics and a hospital are near by.
During the first practice, each player will be evaluated . All players will be assigned a veteran coaching staff to ensure individual and team instruction on both offense and defense. The coaching staff will thoroughly train and prepare each player during the entire camp to be a better, more confident football player! Parents and relatives are encouraged to attend practices. During the camp, the NFL players in attendance will teach the same offensive and defensive techniques that they are taught by the best coaches of the NFL!
Our goal is to give each camper the finest football instruction available and a program they will never forget! There will be individual instruction for quarterbacks, running backs, wide receivers, offensive linemen, defensive lineman, linebackers, tight ends, and defensive backs!
On-the-field practice and instruction three times each day of camp! You will go home a better football player!
Daily instruction lectures and demonstrations on football fundamentals by NFL current and past players.
Eat, sleep and become friends with some of the top NFL players in the world.
Excellent football, recreational and housing facilities. Top coaches, trainers and NFL players.
YOUTH FOOTBALL CAMP - LEVELS
Elementary Level - Beginners and experienced players
The high school level coaching staff and pros feel they have a great responsibility to this age group. This group is very special and will receive personalized attention and training. Learning proper technique at this age is very important, but our staff never forgets "football is a game." While still making each practice fun, our veteran coaching staff and pros will step it up a notch each day with more advanced technique training.
For athletes that have more experience in this level, coaches will work with players on more advanced technique training on both offense and defense. We take pride in the number of players we have helped to make and contribute to their youth league or team. Our high school level coaching staff and pros will intensify the instruction in all phases of the game with positive, enthusiastic instruction and more advanced technique training.
Middle School and Jr. High Level - Beginners and experienced players
Our coaching staff's goal for this age group is to prepare each player for his team! If you have never played football before or if you are an advanced player, we know how to make you a better football player! The instruction will intensify in all phases of the game as the week goes on. Each player will receive more advanced technique training each day of camp. Each player will return to their team a much improved football player!

Identifying healthier foods that your family deserves,
and your kids will love!